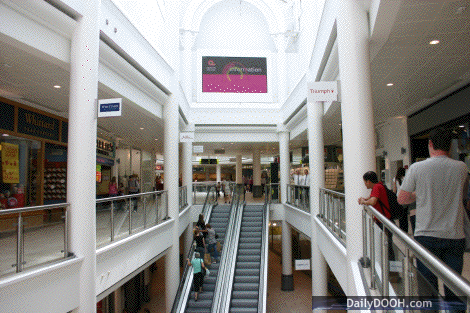 Newly renamed Ivista Ltd (formerly Mediavista Ltd) tell us they have just launched a screen network at the newly refurbished Queens Arcade in Cardiff.
There's a 3.5m x 2m LED screen located in the highest footfall area of the mall and 3 x LCD panels strategically placed in busier higher dwell areas across the centre.
The screens provide shoppers with way finding signage, customer service information, retailer offers, advertising and live entertainment and sports news feeds from Sky.
Newly formed independent sales agency ScreenMedia Limited support the centre with local advertising sales.
Angela Coleman, Director of Ivista told us "We are delighted with the results of local advertising sales achieved by ScreenMedia Limited. They successfully secured the local advertising target in just a few weeks and we have been delighted with the professional service provided by the company. From sales reporting to their in house creative, having a one stop shop for local sales has been an ideal solution for us."