Adrian J Cotterill, Editor-in-Chief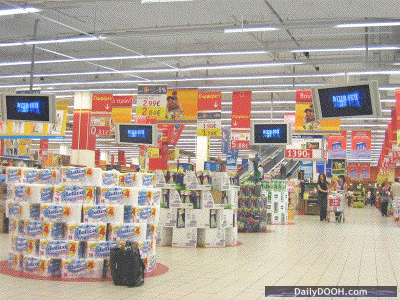 I saw some great networks when I was over in Athens earlier this week. I particularly liked the Carrefour network. 9 stores in the Athens / Attica area I believe, with another 40 to come in next 12 months.
The network is managed and run by i-contact.
Over 90 brands have been advertised on the network to date.
Approx 1.4m per month footfall
Some interesting EPOS related measurement reporting in place so they can measure the affectiveness of in-store brand advertising.
The content is focused on promotional offers and price deals as well as time sensitive promotions.
They seem to have multiple content zones – they say to avoid watching the same thing in all screens. Loop lengths vary from 5 minutes in the case of the Dairy sector (dairy products and health information) up to 10 minutes at the entrance.
Bottom line; it's a nice, well thought out, profitable grocery network.