CBS Outdoor UK has partnered with the British Fashion Council to promote the British Fashion Awards to Londoners, which took place on 7th December at the Savoy Theatre.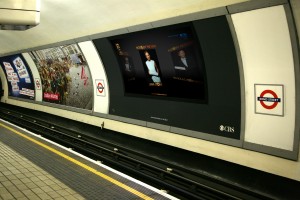 Until December 14th, CBS Outdoor's digital cross track projector (XTP) screens on tube platforms across London will announce all the winners from the ceremony, and show an exclusive video and visual content with highlights from the event.
Caroline Rush, CEO of the British Fashion Council comments "Working with CBS has allowed us to make the British Fashion Awards (which is an exclusive industry event) more accessible to the people of London. The XTP screens are a great platform to share a celebration of the best of the British fashion industry, in one of the most creative cities in the world. The flexibility and immediacy of the CBS screens means that we can tell Londoners about the winners the morning after the event, complementing what they'll be checking out online and through all of our social media."
This celebration of British fashion will be run across 60 digital XTP (cross track projection) screens at stations in London including Bond St, Knightsbridge, Holborn, Victoria and Green Park.
"We are very pleased to be working with the British Fashion Council, bringing the glitz and glam of this exclusive event to life on our screens, adding a bit of sparkle to people's day through this campaign," said Lisa Rokny, Head of Creative & Development at CBS Outdoor UK.  "We have the flexibility to change the content on our digital screens throughout the day, allowing us to showcase exclusive and relevant content to London commuters, at a time that they want to be entertained."