Err, rather excitingly we were pleased to find out that the WBCM '08 campaign of ours was the first EVER portrait style campaign to be featured at VMG's Trafford Centre!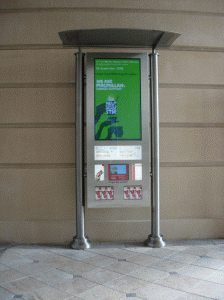 VMG recently fitted out the Barton Centre, The Trafford Centre's new wing with portrait style digital signage street furniture (shown above) – like the new, classic VMG Iconic Pods these units also feature their own bespoke 'touch screen' technology.
The Trafford Centre is surely one of the UK's truly iconic shopping venues, Ed
Tim Ritson, VMG Sales & Marketing Director told us exclusively "VMG were very pleased to support the WBCM campaign"
He added "The content that was supplied by Amigo Digital was of really high quality and it allowed us to showcase our latest digital portrait units at the Trafford Centre to best afffect"
DailyDOOH has also learnt that 10 of VMG's shopping mall venues across the UK will be fully operational with the brand new Iconic Pods for the busy pre-Christmas period.
Tim Ritson declined to comment on which venues these might be but assured us that an announcement would be made shortly.
That will then, be an average of 8 Iconic Pods per venue AND that is going to make a significant portrait / panel style digital network – let Gen 2.0 shopping mall networks begin!!