Adrian J Cotterill, Editor-in-Chief
German Digital Signage software manufacturer Stinova Ltd has been in the news a lot lately and here we see them announce that their professional Digital Signage server software solution DMS4 is successfully installed and running at Palexpo's exhibition center in Geneva, Switzerland.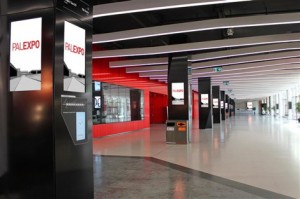 The Exhibition center uses large format screens for digital signage each driven by a SpinetiX HMP100 Hyper
Media Player and centrally managed by Stinova DMS Software
Palexpo hosts about a hundred exhibitions, conferences, congresses and events of all types throughout the calendar year. It is one of the most important exhibition centers in Switzerland with its 7 halls and 102'000 m2 (1,097,520 sq ft) of covered surface. Palexpo welcomes every year over 1.35 million visitors.
Over 75 large format screens are found throughout the Palexpo halls each driven by a SpinetiX HMP100 Hyper Media Player.
Franz Hintermayr, CEO of Stinova told us "We are excited to announce the support of this large size Digital Signage network very shortly after finalizing our full support for SpinetiX HMP100 Hyper Media Players and introduction of our portal at www.spinetix.digital-signage.cc in November 2010″
He added "Our intuitive WYSIWYG composer and advanced content management solution simplifies the operation and administration of Palexpo's existing network and allows easy scalability to a larger number of individual screens".
Stinova will be at #ISEUROPE in Amsterdam in Hal 12 on stand 12C79.