Gail Chiasson, North American Editor
TouchTunes Interactive Networks, Basking Ridge, New Jersey, will leverage the Verizon Wireless 4G LTE Mobile Broadband network in its fleet of Digital Jukeboxes nationwide.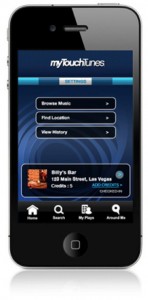 TouchTunes claims position as the largest interactive out-of-home entertainment network in North America, providing entertainment and marketing solutions to more than 45,000 bars and restaurants,
TouchTunes is demonstrating a LTE connected jukebox and LTE connected TouchTunesTV system, as well as its new myTouchTunes Mobile app for the Android platform. Visitors can use the Mobile app to browse and search for music, access their personal playlists, play music from the jukebox, automatically post their plays to Facebook and Twitter, and more.
Commercial availability of 4G LTE supported TouchTunes jukeboxes and TouchTunesTV screens will closely follow the rollout of LTE devices. The myTouchTunes Mobile Android app will be available through V CAST Apps, Verizon Wireless' mobile storefront shortly.
Verizon Wireless' 4G LTE Mobile Broadband network will provide TouchTunes with a combination of high data speeds, excellent in-building wireless penetration, and coast-to-coast coverage. With instant-on connectivity, TouchTunes systems using Verizon Wireless' 4G LTE will have lower deployment costs and on-demand access to TouchTunes' rich entertainment and advertising media.
Michael Tooker, senior vice president of technology at TouchTunes, says, "The breakthrough performance of Verizon Wireless' 4G LTE Mobile Broadband network will seamlessly connect users to our vast music catalog and our advertising partners to their target audience."
The Verizon Wireless 4G LTE Mobile Broadband network, launched in December 2010, is the fastest, most advanced 4G network in the United States, providing speeds up to 10 times faster than Verizon Wireless' 3G network. Verizon Wireless' 4G LTE Mobile Broadband network currently reaches one-third of all Americans, with plans to expand the network to the company's entire 3G coverage area over the next three years.
TouchTunes can be seen in Verizon Wireless' booth #35216 in the South Hall of the Las Vegas Convention Center