Polish media company Onmedia has developed an innovative approach to outdoor media advertising for its clients. Working with local governments and technology partners, Onmedia launched Poland's first country-wide digital signage media network with a system of 10 screens in eight major Polish cities starting with Olszyn, Gdynia, Katowice and Bydgoszcz. To date, Poland's Scala-powered digital signage network consists of 80 screens strategically positioned in urban hot-spots.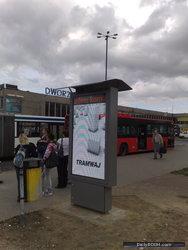 The network is proving a success, according to Onmedia, due in part to a defined strategy with the following goals: attract and maintain the audience's interest; establish an efficient way to centrally manage the network from a single location; and secure buy-in of the project from local governments.
Major Polish advertisers such as Indykpol, Family.pl, Mok and Anitech ERA, have already invested in the new network. Additionally, local governments have embraced the system as an excellent platform to keep citizens up to date about changes in schedules and bus routes, as well as information about promotions, ticket prices and more.
"We are very happy to be part of such a landmark project in Poland," said Oscar Elizaga, Vice President of Scala, EMEA, India and Latin America. "Onmedia did an excellent job creating a 'guaranteed to watch' audience with live timetable feeds for public transportation. Plus, the section dedicated to advertising means that promotions can run 24/7, which opens the door for advertisers to target a large, captive audience day and night."
The network consists of high-definition LED screens split to display both social/public content (news, weather, bus schedules, etc.) and commercial content. Screens positioned near busy bus stops and high pedestrian traffic areas continually present dynamic digital content to attract and hold the attention of people passing by the displays.