London underground commuters are going to get to know Paris, New York, Barcelona and Rome from a whole different perspective.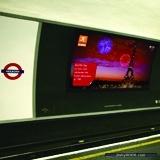 Travel book specialist Rough Guide will be using CBS Outdoor cross track projection (XTP) screens to showcase content from its array of city guidebooks around the world.
Each week will feature a different city.
Commuters will be able to dream about the wonderful places they can stay in; secrets they can discover and the events and festivals they can go to in these cities AND the company hopes, get inspiration to buy the guide book and book a city break!