Adrian J Cotterill, Editor-in-Chief
The funny thing about the recent kerfuffle in the UK with the sexist SKY Sports commentators was that in this author's own experience (a grade 1 Football Association referee) professional football players don't know half of the rules of the game themselves so calling into question what a 'piece of skirt', who officiated a game, might know about the offside rule (heaven forbid we had a female 'lino' at a Premiership football game) is not only sexist but also like the pot calling the kettle black.
Anyway I digress…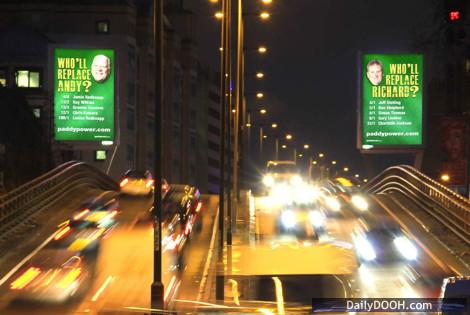 Here's another example of the immediacy of DOOH. This campaign for Paddy Power went up last night (and here's the really funny bit) it's being shown en route to Sky's offices in Isleworth!
Note the "who'll replace Andy" (that's Andy Gray) on the left and "who'll replace Richard" (Richard Keys) on the right. All very clever as well as immediate.