Adrian J Cotterill, Editor-in-Chief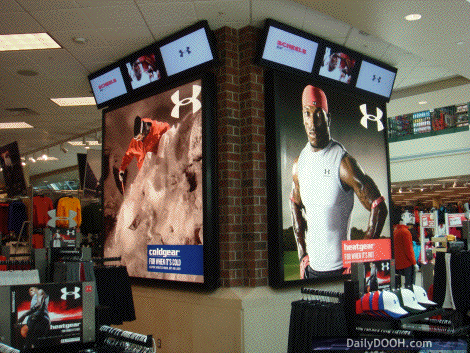 Last week in Paris we presented at the Viscom show and in two of our foils we had a line that said 'Music Misunderstood2' and we went on to explain that music in our industry is often misunderstood; FIRST by traditional digital signage companies who pay no attention to audio and often have software solutions that support it badly or not at all and SECONDLY by music companies who understand music but don't usually fully appreciate the use of video and / or signage.
PlayNetwork who were number one in 'Our Top 10 Music Providers' post earlier this year (so we are big fans) have certainly made a statement here with this huge Scheels, experts in "all-sports superstore", retailing rollout.
PlayNetwork are delivering custom music, digital signage and systems integration for Scheels' new 295,000 square-foot destination at the "Legends at Sparks Marina" complex in Sparks, Nevada.
The store opened to the public 27th September and we have not seen it with our own eyes but but some of the comments in the press release make it all sound a little bit like MTV…
"PlayNetwork's expert in-house music, video media and systems teams have partnered with Scheels to create a sight and sound experience"
"Visitors to the newest Scheels store will be greeted by an amazing display of brand and lifestyle video footage displayed across 36 x 40-inch high-definition LCD monitors mounted on four giant columns" – see picture above.
"Throughout the store, 39 channels of Scheels programming is broadcast to over 100 42-inch plasma TVs"
There are however also 40-inch and 50-inch digital menu boards installed in Scheels' own restaurant and fudge shop, Grandma Ginna's.
These stores are huge so it's probably not a surprise that in-store audio is comprised of eight unique, customised music programs featuring a broad range of audio entertainment, from iconic hits to fashion retail played out in up to 13 zones
Mind you to add to the 'retail theatre' like experience the store showcases the world's largest selection of sports, sportswear, and footwear under one roof and special attractions include a customer tram; eight lifelike bronze sculptures; two 16,000 gallon aquariums; a 35-foot tall, 800 square-foot Wildlife Mountain; a 65-foot, 16 car operating ferris wheel; a home décor and gift lodge; and shooting galleries and simulators for everything from golf, to soccer, to hockey.
We would just like to see those (relatively small) screens a lot lower on the walls!!!
About PlayNetwork

Established in 1996, Redmond, Washington-based PlayNetwork, Inc. is an integrated media services leader for worldwide business. PlayNetwork provides branded video (digital signage), audio (music and messaging), promotional media, quality audio/video systems, and professional services that deliver compelling experiences for retail, hospitality, health and fitness, retail banking and other businesses. The XM for Business service is now managed by PlayNetwork through a new strategic relationship with XM Satellite Radio.