Adrian J Cotterill, Editor-in-Chief
Long before we invented the Blogger Lounge InAVate magazine had been exhibiting at events like #ISEUROPE.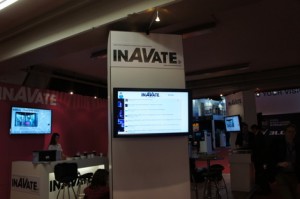 As far as we know they had the only twitter wall at the show (shown to the right here) which is / was a real shame. They had plenty of screens displaying their wares (all powered by Spinetix we believe) but missed a trick we think (they are after all, a well respected and long standing magazine publisher) in having all of their screens in landscape mode looking like TV screens.
What would have been much better is the screens in Portrait mode and perhaps a whole bunch of different magazine covers being displayed.
InAVate magazine can be found on stand 1M32 in Hall 1