Adrian J Cotterill, Editor-in-Chief
Stinova announced last week at #iseurope in Amsterdam that they signed up Subvertice as its new reseller for Portugal. Subvertice will distribute Stinova's software in Portugal and to provide local sales and support services from its offices in Lisbon.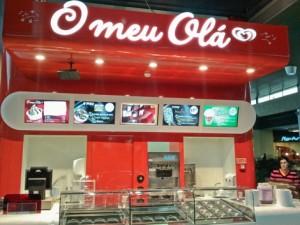 Subvertice has recently installed a pilot project for the 32 store Olá Ice cream chain.
For each location there will be five displays installed as menu boards driven by two hardware players with multi-headed graphics for multi-screen support. This design significantly reduces hardware costs while allowing independent channels per display and provides support for special effects that run content across several displays simultaneously.
Franz Hintermayr, CEO of Stinova Ltd told us "We are excited to work with Subvertice since their specialist skill provides a strategic entry for Stinova into the Portuguese market. This extends our European wide reseller network to a country where we see lots of opportunities in a variety of market segments such as hospitality, restaurant and retail."
Miguel Rosa, Production Director at Subvertice Lda told us "We see a tremendous need in the Portuguese market for next-generation and easy to use Digital Signage solutions. Stinova's ability to rapidly modify the software to meet demanding challenges allows us access to a broad selection of vertical markets. Stinova's multi-language console supports Portuguese thereby allowing our customer to manage the system in-house."