Adrian J Cotterill, Editor-in-Chief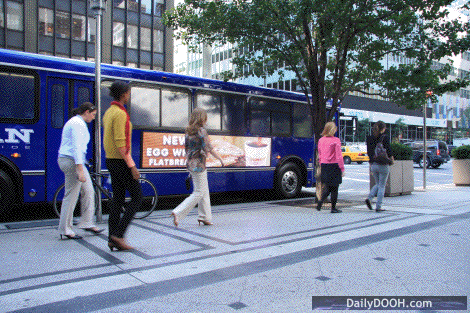 Titan Worldwide are starting to talk a really good digital story – the key of course is whether they can demonstrate and deliver – if they follow the lead of their UK business that pioneered a couple of the very early digital initiatives – including of course the incredibly well thought of Titan Transvision network then, with the addition of folks like Lou Giacalone, Jr. crafting their worldwide digital strategy there is no reason to think that they won't.
Lou told us "Titan's digital signage network will impact pretty much everybody who lives or works in each of our markets"
Here we see a raft of digital bus, rail and subway portfolio.announcements and initiatives, starting in the key U.S. markets and London (with Ireland and Canada to follow soon after).
Titan's digital rollout is predominantly based around transit hubs that benefit from big dwell times and large (relatively) captive business audiences and their new additions include…
Bus Digital Kings – King size 12-foot displays that use the latest LED and GPS technology. These signs are bright and unavoidable and will enable advertisers to target mass audiences by time of day, block, zip-code, demography and ethnicity. Extensive trials of the display are already underway in Chicago with a launch rollout date of late 2008.
Platform Displays – Located on platforms across Titan's rail portfolio, these large HD screens will form one the largest pieces of Titan's digital rollout with over 1,200 planned in Chicago alone. These screens will offer consumers engaging content and relevant advertising and will also allow the Transit Authorities to reach their commuters instantly, en masse, in ways it never could before. Titan and its content partners will provide editorial content such as news, sport, weather and entertainment.
Interior Rail Displays – Titan will also offer large commuting audiences the opportunity to be engaged and entertained within the trains with large HD, GPS-enabled displays. Making the most of the huge commuter dwell time, the screen will also bring advertisers closer to this captive audience by their proximity to the editorial content and the relevance of time and location-adaptable creative.
Urban Panels – Titan's street-level subway displays in Chicago will be digitized in early 2009. With HD screens on both sides of the display, they will reach millions of consumers with maximum impact, allowing advertisers to change and adapt their creative by time of day.
U.K. Rail 6 sheets – Titan has recently rolled out over 100 digital D6's (6 ft x 4 ft) in some of London's busiest rail locations. Titan trail blazed digital Out-of-Home technology in the U.K. with Transvision, a network of 18 screens in 17 of the country's busiest rail terminals. It also has large scale roadside digital inventory in London and in Toronto.
Donald Allman, President, Titan Worldwide said in the press release "We have already made significant commitment to digital technology and our transit partners and advertisers have been very enthusiastic about our plans,"
He added "It is also exciting to offer advertisers the opportunity to reach consumers in ways they never thought they could."
There was also an interesting quote in the press release from Venecia Liu, Research Director, Media and Communications, Gartner, Inc when she said "Digital advertising has gained a significant foothold overseas with installations throughout Asia and Europe. As the U.S. begins to embrace non-traditional platforms and better understand how to effectively use various digital media technology, we as an industry will continue to see ad dollars shifted to alternative media solutions."