The British Fashion Council (BFC) and CBS Outdoor UK announced that they are working together on an exclusive partnership deal. CBS Outdoor UK is be the BFC's official outdoor broadcaster for London Fashion Week February 2011; together they will produce and deliver fashion content to be broadcast across its network of Cross Track Projector (XTP) screens on London tube platforms.  The campaign has kicked off with a four day countdown to London Fashion Week from the 14th February 2011.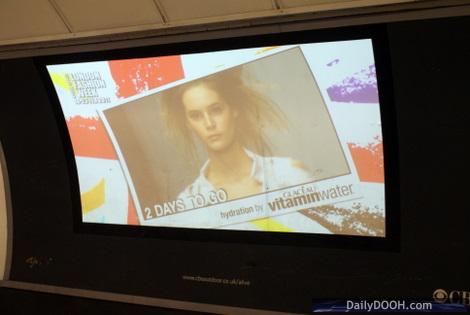 The campaign features footage exclusively-shot by the BFC which CBS Outdoor UK will then produce into 20 second, high impact pieces broadcast up and down 20 platforms across 60 screens before, during and after London Fashion Week (18th–24th February 2011). This will include exclusive content from all designers on the official London Fashion Week catwalk schedule.
From 18th-24th February, regular updates during the week itself will be broadcast in the form of a daily diary and exclusive highlights from the.  Once London Fashion Week Autumn/Winter 2011 concludes, CBS Outdoor UK's screens will feature highlights from the event from 25th- 27th February.
Lisa Rokny, Head of Creative and Development at CBS Outdoor UK comments "The London Underground is an iconic setting to celebrate world-class fashion. Digital outdoor is a broadcast medium, which makes it a natural partner for fashion and the arts so  we're delighted that the British Fashion Council recognised the benefits of CBS Outdoor UK's network and expertise in producing eye catching content for the screens. This campaign is a great example of how a brand can sponsor this relevant content on our digital screens, amplify their association and engage Londoners even further".
Caroline Rush, CEO of the British Fashion Council, said 'This is an amazing opportunity to get Londoners involved in London Fashion Week and give them a front row seat to all the best shows – a sneak preview of the key trends and insight into what they will be wearing come Autumn. We are really excited to be working with CBS Outdoor and I would like to thank Glacéau vitaminwater for making it possible.'
The Campaign is Sponsored by Glaceau Vitaminwater.