Adrian J Cotterill, Editor-in-Chief
Finally a reason to go see Cisco's booth at #dse2011. Array Interactive are to showcase their OneTouch Help™ Cisco Telepresence video solution next week in Las Vegas.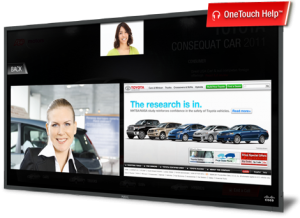 Marketing technology agency Array Interactive will showcase its latest innovation OneTouch Help™ – a solution that enables a Cisco Telepresence, high definition video experience to be enjoyed through an interactive touch screen leveraging Cisco's Digital Media Suite platform.
Jeff Dumo, Partner and Director of Client Solutions at Array Interactive told us "We're very excited to demonstrate what we believe to be a truly game changing experience. We believe OneTouch Help will be extremely relevant to industries like retail, healthcare and financial services where the route to revenue is influenced by high-touch, customer care interactions as well as relevant point-of-decision content."
OneTouch Help of course enables personalised interactions between brands and audiences by allowing consumers to access live subject matter experts instantly through a touch enabled interactive digital display. They are then able to have a real time, video-based discussion through the quality and performance of Cisco Telepresence technology. Desktop and web applications can also be shared to better educate consumers on products or services.
You can see OneTouch Help in Cisco's booth #1310.
This could be the first applicatiion (that we are aware of) to enable a high definition video chat to occur through an interactive touch display.