The Imperative Group, an independent digital out of home development and execution consultancy, has launched an entry level product aimed at optimising early stage thinking when businesses are looking into investing in digital out of home media.
The Network Development Blueprint (NDB) exposes a customers' options (digital screens, interactive displays, mobile and social media), uncovers the true value of adopting the media and generates development plans quickly and cost effectively.
Chris Heap, Managing Director of the Imperative Group explains,
"Middle management that are faced with the issue of whether to implement DOOH or not, need to understand what's available and what benefits will this bring for their company, before they present a proposal to the board of directors describing why use digital media and what's needed to get there. This blue print helps them in this first stage of the project."
"Customers are now looking for high value help without high management costs or waiting for months for an answer," he added, "In today's economic climate, marketers, buyers and investors need to validate the opportunity and secure funding to take the thinking process into a test and learn phase."
The NDB complements Imperatives' existing education and orientation consultancy programmes and acts as a lighter version of the viability analysis product which provides customers with a complete business case for digital media.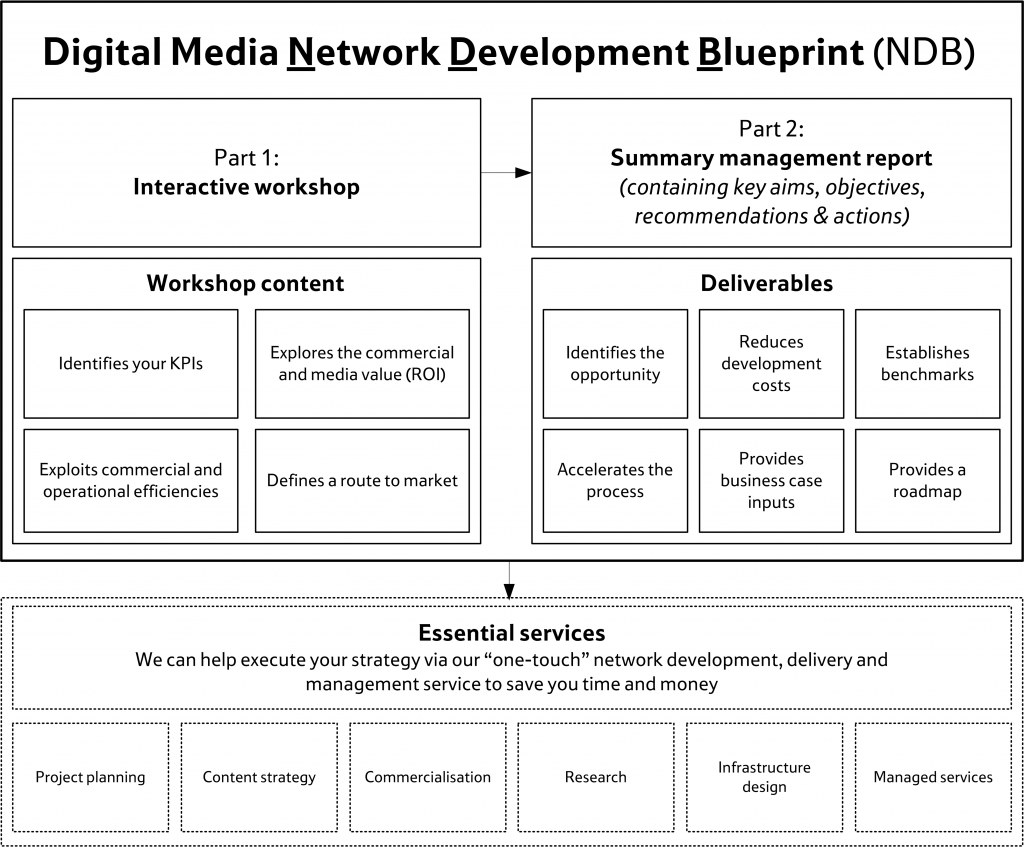 "The NDB helps end users to understand what they need and accelerate the development of a digital out of home network without having to invest a huge amount of time and money," said Heap.
The basic NDB starts at GBP 5,000 or local equivalent (excluding sales taxes and expenses) and takes between 4-6 weeks to complete.
Through a process of market research, stakeholder workshops and development of a bespoke management report, the NDB process will expose a customers' media, content, marketing and commercial options by providing expert digital network development guidance in order to clarify the quickest and most effective routes to market for an idea or a project. Ultimately the programme delivers a development action plan which can be used to underpin additional strategies or be used to seek internal or external funding to secure a project development phase.
A standard NDB is made up of two key stages:
Part one consists of a one day workshop between key stakeholders and our independent experts to enable participants to identify the network's key performance criteria, internal requirements and external partners; explore the media, marketing and operational value a network could deliver; exploit the commercial opportunity and operational efficiencies and define an efficient route to market.
Part two provides a summary management report containing key aims, objectives, KPI's, recommendations, actions and deliverables which can be used to support an internal business case.
For more information email chris.heap@imperativegroup.com or visit their web site.