Gail Chiasson, North American Editor
Hitachi Ltd. and Scala Inc. have reached an agreement whereby Hitachi will hold an exclusive license to operate and resell Scala's SignChannel low-cost digital signage software services throughout Japan.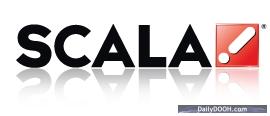 Hitachi is already one of Scala's larger customers, having deployed more than 5,000 Scala-driven displays throughout Japan. Scala's software powers Hitachi's Mediaspace digital signage ASP services, which are used by customers such as barber shops, general retail and convenience stores, shopping malls, train and subway stations, real estate chains and more.
"When we first saw Scala's new SignChannel software and service, we quickly realized that it would easily satisfy the needs of a new class of customers who do not require all the powerful features of the traditional Scala systems that we continue to widely deploy in Japan," says Takeshi Enokibori, manager of the Mediaspace division of Hitachi Ltd.:
Guillaume Proux, general manager, Scala Japan, says, "It was a natural fit for Hitachi which, using Scala, has already acquired over 50% market share of large-scale digital signage deployments in Japan."
Scala CEO Gerard Bucas says that the success of Hitachi with Scala in Japan and its new investment in the SignChannel business is validating Scala's strategy of expanding to cover more markets and price points to provide the most versatile solution spectrum for Scala customers around the world.
SignChannel is an online SaaS service that combines the simplicity of a Web 2.0 application with the power of Scala's traditional template-based composition system. It integrates all of the modern features of a digital signage system, including creation and editing of playlists, scheduling, composition of messages from templates and more.
SignChannel also includes a wealth of ready-to-display licensed content such as general news, sports news, weather information and health advice, which allows anyone to set up a digital signage display without ever having to worry about where to get useful and interesting content to keep the audience engaged. SignChannel's most interesting feature is its ability to use very low-cost media players (basically an appliance) and the resultant lower total cost of ownership, ease of installation and ongoing operation. Anyone who can connect an appliance to a WiFi network can install and use SignChannel . There's nothing else to install. With a web browser, users then simply drag and drop content into a playlist, schedule it and 'Voila!', the content plays back on all associated playback devices.
Hitachi plans to launch its fully localized SignChannel services with content sourced from local Japanese content providers. Hitachi will also promote the service through its extensive sales network across Japan.
The companies have also agreed that they will jointly develop various user interface customizations to enhance the commercial potential of the service in Japan. Hitachi plans to deploy SignChannel on its own cloud server technology and will work closely with a number of Japanese manufacturers to enable them to offer SignChannel-compatible hardware devices for sale in Japan and worldwide.