Adrian J Cotterill, Editor-in-Chief
Exhibitions can be row upon row of square booths if organisers are not careful. One of the many things we liked about ScreenMediaExpo last year (May 2010) was that they had lots of other exhibits to break up the monotony.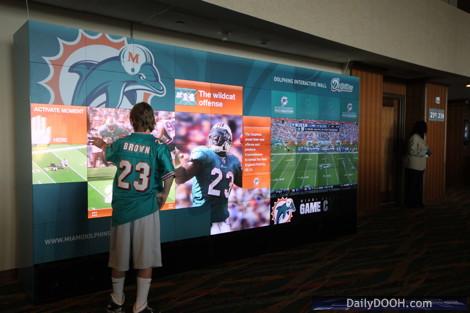 Whether it be Scott Anthony's wonderful DIgiAdvans which were dotted around the show floor or the Yesco double decker buses (albeit parked outside) we had a show where a square booth was not the default (our blogger lounge was unfortunately a bit boring but we are looking at improving that this year).
This year the organisers are taking all of this one step further; courtesy of Arsenal Integrated / Christie Managed Services a
giant award winning BuzzWall
will greet exhibitors as they step onto the show floor (shown above as it is seen at the
Miami Dolphins Sun Life stadium in the US
and to the right here as it was seen at DSE2011 in Las Vegas earlier this year).
Once inside visitors will be treated to (more) DigiAdvans, iTaxiTop Mini's, holograms used as virtual Mannequins, washroom advertising, various virtual shelves (including the famous one from Intel / Adidas but also, most likely another one from Christie) and much more.