Adrian J Cotterill, Editor-in-Chief
Now is probably not the time to launch a startup in the City of London and surely now is NOT the time to start giving away digital screens for free but the Financial Times last week reported that a company called Media Metrica has agreed an interesting 15-year contract with the City of London Corporation to deploy 100 pairs of video screens free of charge in return for the right to operate the on-street information channel, which will be called Renew.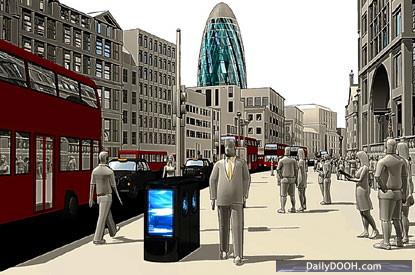 Renew is going to be an "outdoor financial channel" in London's Square Mile based around bomb-proof litter bins! Okay not exactly litter bins, the 'Street Furniture' in this rollout is actually screens housed on the side of bomb-proof recycling units for newspapers, cans and bottles. We haven't seen any pictures yet but it sounds interesting and is a nice twist on useful 'Street Furniture' in City centres.
The FT reported that the company has been working on the idea for six years BUT that it still needs to secure a sponsor to put the units, which cost about £30,000 each, on to the streets by autumn next year.
Kaveh Memari, the chief executive and co-founder, said the units' blast technology had been thoroughly tested to prove they would be safe – the City removed its litter bins at the height of IRA attacks because they were target points for terrorist bombs.
Mr Memari was quoted as saying that he is "aiming to sign a high-profile sponsor for the project within six months"
Media Metrica has been through four rounds of financing and allegedly already raised 'a couple of million pounds'. The business has 30 shareholders.
Philip Everett, director of environmental services at the City of London Corporation told us "The City of London will be the first region in the world to embrace this exciting new platform. The introduction of Renew will not only help the City increase its on-street recycling rates further still, but also keep City workers, commuters and pedestrians up to date with the latest business and other information."
There's actually a lack of outdoor advertising in the Square Mile so for the right brand it could be an interesting opportunity and we like the clever play on words with the name 'Renew' i.e recycling!
By the way, the bin deal goes way back…
September 7, 2004, Clearwater, FL. BlastGard International, Inc. (OTCBB: "BLGA" – news) is pleased to announce that it has entered into an exclusive license agreement with Media Metrica Ltd. for the use of BlastGard's BlastWrap™ product inside Media Metrica's RE:NEW modular recycling units.
See http://www.blastgardintl.com/press/