Gail Chiasson, North American Editor
Concord, Ont.-based Omnivex Corporation's digital signage was recently used at the FIS Nordic World Ski Championships – held at Holmenkollen's new national arena in Oslo, Norway – to distribute a variety of digital signage content which included live coverage of the event.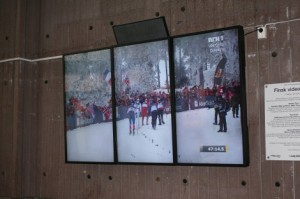 The 12-day event, Feb. 24 to Mar. 6, 2011, featured 21 disciplines in cross-country, Nordic combined and ski jumping.
Rom Eiendom AS, owner of much of Norway's train system, decided to make use of digital signage within the train and bus stations to not only display information about the event and how to get there via public transit, but also to stream live content from the event inside and outside stations for passengers. Omnivex offered the flexibility to use the signage in a variety of ways, all with one integrated software platform,
Omnivex, a Microsoft Gold Certified Partner and provider of enterprise-level software for digital signage networks, saw its software used to distribute digital signage content including live streaming to the public in multiple locations throughout Norway.
With over 300,000 tickets for the event sold, the majority of spectators used public transportation to travel to the event. An agreement with NRK, the national television company in Norway, gave the rights to show live broadcast coverage from the World Ski Championships throughout the Oslo S and Lillehammer train stations.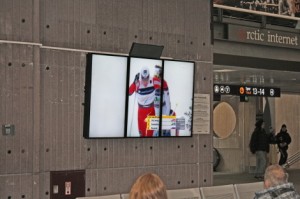 Oslo Central Station (Oslo S) is by far Norway's busiest train station, servicing over 150,000 visitors daily on a regular travel day. It services express, regional and local trains from four different companies.
Omnivex software was selected to power the information system for Rom Eiendom after it went for public tender last year. The digital signage system is mainly used to display traffic conditions, bus and train schedules, and other useful travel information.
"The ability of Omnivex software to be used to display many different types of information through their various data linking products, as well as to stream live content for special events, has been invaluable," says Geir Ove Finstad, managing director of Hatteland Vision. Hatteland Vision AS, part of the Hatteland Group, is the premier digital signage integrator in the Nordic Region of Europe. It delivers complete digital signage solutions based on Omnivex software.
Rom Eiendom is one of the largest property companies in Norway. The use of digital signage helps to support its main goal of creating better urban spaces where people can meet. The company owns over 1,000 properties and approximately 350 train stations.
Rom Eiendom's vision is to eventually use digital signage throughout many of its properties. At its properties and stations, it manages about 3300 lease contracts. Established in 2001, Rom Eiendom is a wholly owned subsidiary of NSB AS.