Adrian J Cotterill, Editor-in-Chief
enVu, a wholly-owned subsidiary of STRATACACHE of course announced today an exclusive partnership with CBL & Associates Properties, Inc. – one of the US's largest owners and operators of regional malls and shopping centers.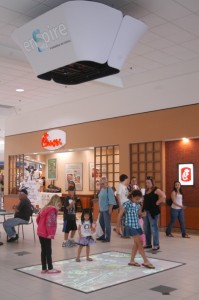 The newly formed partnership entails deployment plans for the immersive advertising platform, enSpireTM within select CBL shopping centers located throughout the nation's top 20 designated market areas (DMAs).
The enSpire platform utilizes interactive floor projection displays that engage consumer interaction with the featured content while providing a memorable experience for mall visitors and enhancing brand recognition and purchase intent for advertisers.
enSpire is currently active in 29 CBL shopping center locations including, Arbor Place Mall in Georgia, Cross Creek Mall in North Carolina, Hanes Mall in North Carolina and Coastal Grand Crossing in South Carolina. Future expansion plans include 12 additional market-dominant shopping centers within the CBL portfolio.
Unique to these deployments is the launch of enSpire's new, modern design – the enSpire 2.0 platform. All CBL properties will feature the new design which incorporates eye-catching panels made of tension textile that surround the ceiling installation – offering additional branding or advertising opportunities for clients.
"We are always seeking out new technologies that enhance the shopping experience during the path-to-purchase," said Jim Ward, senior director – brand development for CBL. "We are excited to bring the enSpire platform to CBL malls across the country, allowing our shoppers to experience the newest advances in interactive advertising."
The growing presence of the enSpire platform is part of the company's plans to reach an overall viewership of five billion annual viewers in key OOH venues by 2013. Current viewership is 1.5 billion consumers per year.
"This partnership marks the beginning of an exciting, new relationship between enVu and CBL, with both companies creating an impactful collaboration that brings added value to CBL shoppers, retailers and brands," said Benjamin Mathieu, enVu CEO. "Amidst the excitement, we are proud to announce our partnership with CBL and we look forward to the upcoming opportunity to expand enSpire's visibility."