Gail Chiasson, North American Editor
During the latter half of 2010, the Canadian Out-of-home Digital Association (CODACAN) partnered with MacLaren Momentum and importer PMA Canada to execute a milestone case study that advertised Grant's Scotch Whiskey exclusively on CODACAN member networks within the Greater Toronto Area.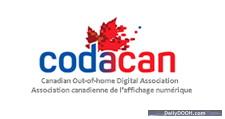 After a six-week trial period, the Liquor Control Board of Ontario reported a 10.7% sales increase for Grant's over the previous year. After weighing in other factors, the DOOH campaign was credited with an 8% sales lift.
Participating networks included digital screens in resto/bars, malls, convenience stores, subway stations, and hotels.
"Grant's wanted to speak to consumers in a new and innovative way," says Lindsay Prociw, senior brand manager, William Grant & Sons. "The CODACAN network allowed us to reach whisky drinkers in an unexpected and memorable fashion, further reinforcing the brand's image as one that can deliver unique experiences."
Methodology included control groups in London and Ottawa, where competitive Ballantine's Whisky traditionally led sales. As a result of strong campaign performance in the GTA, however, Grant's assumed the top sales spot, province-wide.
During the campaign, Grant's and a number of competing labels were also promoting limited-time-offer discounts, which historically created 2-3% lifts. After weighing all factors, PMA Canada credited the six-week DOOH campaign with a full 8% sales lift. Prociw says that Grant's management was quite surprised and pleased at the immediate and directly correlated lift in retail due to the campaign.
The Grant's case study results validated DOOH's ROI, and CODACAN will be following up with further case studies across a broad range of categories.