Gail Chiasson, North American Editor
When the global Digital Out-of-Home industry decides to get behind a cause, it does so in a big way, and that's what we're seeing right around the globe as a huge effort is being made to help raise funds and sustain awareness for the victims of the triple disaster of earthquakes, tsunami and nuclear plant problems and resultant radiation in Japan.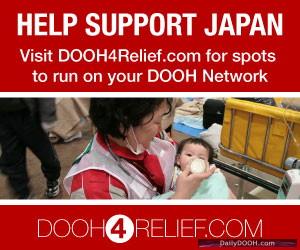 While a few companies had already started their own efforts – and kudos to them – it was digital signage consultants Dave Haynes, and David Weinfeld, colleagues in The Preset Group, who really got the ball rolling with DOOH4Relief, a central website for the gathering and distribution place for high-quality motion media spots developed voluntarily by firms and individuals involved in the DOOH industry.
A check into the site Sunday evening saw PSAs created and offered for free by rVue, Insteo, ContextMedia Inc., TouchTunes, Outcast, and IDklik, with more content providers creating – and invited to create – suitable PSAs for use. Video files should be 15s/30s and conform where possible to the DPAA content guidelines for resolution, bitrate and file type.
Creators can upload their files using YouSendIt, and the DOOH4Relief team handles getting them on site. (Creators must ensure that the material is approved, free of any licensing or copyright issues, and – this is important – that it contains no information indicating the content producer or any information that could be perceived as being done for the marketing benefit of entities other than the charity.)
Network operators are invited to select any of the PSAs and use them on rotation. All files are cleared of all copyrights, unless noted. The efforts have the approval of the organizations designated as recipients of any funds.
The PSAs are free to use and we're beginning to see not only large networks picking them up for use, but a growing interest by smaller venue screen operators, as well. There is no cost to use these spots, which are all intended to stimulate public giving.
Videos are currently found on DOOH4Relief in English and French. (More French and other languages, especially Spanish, would be appreciated.) Several ads currently available solicit donations to the Red Cross and Red Crescent.
In North America, both the Canadian Out-of-Home Digital Association (CODACAN) and the Digital Place-based Advertising Association (DPAA) have got behind the effort and are looking to their members to help in the effort, running's spots for at least a few weeks.
Agencies and companies across the globe are offering to help out. California-based Insteo, is hosting and managing the site. Among companies know to be working on spots are Cineplex Digital Solutions and Groupe Viva in Canada. A U.K.-based associate of Montreal-headquartered Ayuda Media Systems is working to spur efforts in the U.K.. The spot from idKlic of Belgium is already up and running in 600 Belgian pharmacies. (See separate article. Ed.)
Al Barq Digital in Abu Dhabi/Dubai has joined in and is pulling together the effort in the Middle East region as well as making OVAB Europe aware. ScreenScape has asked its SMB user base to run spots; the Canadian Health Media Network is ready to run spots on its member networks; RMG Networks in the US – has already started running spots on its large New York Times and fitness networks.
Susan Danaher says that the DPAA is putting together a spot that it will encourage its members to run. The DPAA would like to have one common message across all its member networks. However, Outcast, a DPAA member, already has its ad available on DOOH4relief. And, as earlier mentioned, RMG Networks, one of the biggest members of the DPAA, has already been running ads for several days.
"It's terrific to have this support from umbrella organizations because of their ability to get the word out to a lot of people quickly," says Haynes. "We also have watched ad downloads and seen them happen from all corners of the globe.
"We also expect, this coming week, to see participation develop in the Middle East region and we're hoping more and more countries get involved. The turmoil in Libya has diverted some of the attention from Japan but the need has in no way diminished. The scale of the disaster there is just so enormous and a lot of people – particularly the elderly – will need help for a long time."
It is now hoped that more and more networks will use the spots. If your network beings doing so, please advise DOOH4Relief so that it has some idea of the numbers of networks, screens and eyeballs this effort is reaching.