The Retail Week Conference 2011, a two days conference held in London last week, attracted over 900 attendees (double from last year), presenting 70 speakers on around 50 sessions. The conference was accompanied by an exhibition with big names such as BT, Barclays and Experian taking up stands for the chance to engage with the top people in the retail industry.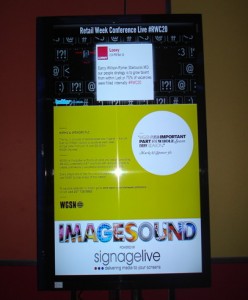 The conference gave attendees an overview of how businesses and brands are evolving and developing to survive and prosper in a digital and globalised world.
The exhibition area, as well as the VIP area for speakers, was well attended with live and pre-created content by In-Store Music provider ImageSound and signagelive. The digital signage screens displayed useful information such as the conference's program and had a live twitter feed as well as logos and stings for the event organisers and sponsors. The live and scheduled audio was profiled and managed by Imagesound. There was also live camera feeds from the floor and stage delivered using IPTV integrated with signagelive.
For this year's RetailWeek Conference, the companies wanted to raise the bar on their contribution to the conference and the element they chose was live; live music and live twitter feeds as well as video from the conference and the show floor transmitted over IPTV. Software using Locamoda's Twitterflow application within signagelive took all the hashtags and Tweets and converted them into live comments on the screens.
This is the third time that ImageSound has been at RetailWeek and provided all the music and public announcements. This year not only did it provide live music, featuring Café Nero artists of the month and organised the DJing for the evening party but it also released its first ImageSound CD called '
This is what I call retail
'. The tracks on the CD were chosen by the CEOs of its retail customers and who had to explain why it means something to them in their retail life.
ImageSound and signagelive have been working together in the retail environment for four years now. sigangelive provides the visuals for ImageSound's audio. Their systems are entwined so that when some specific audio is playing, the relevant content is displayed on the screens, everything is automated.
Choosing to display live content was obviously the right move for this conference. Some tweets created a bit of a stare, so evidently, people were reading them!