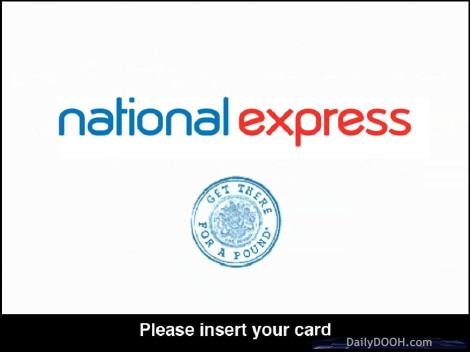 ATM:ad are doing a great job of getting fresh cash (excuse the pun) into the industry and have been one of the driving forces in getting new brands into using digital in the UK. Here we see National Express, the UK's largest coach network advertising cut-price travel over cash machines at universities.
National Express we are sure will have been impressed with the possibility of showing dynamic digital advertisements across 600,000 individual ATM transactions and via 150,000 printed receipts.
The discount offer aims to encourage students to travel to other cities and visit friends by taking advantage of preferential student fares – the adverts should drive students to the National Express website where they can book their planned journey online at a lower price than standard fares.
Dallia Hussein, media manager at MPG told us "We needed a medium that would reach our target audience of University students on a one-to-one basis, Through ATM:ad the discount travel offer will reach students on campuses across the UK with minimal wastage and maximum relevance."
The ATM advertisements are part of a wider integrated marketing campaign that includes student magazines, sub-TVs in student bars and washroom panels. Students are frequent users of ATMs and the targeting of over 120 multiple on-campus sites should ensure that the message reaches the campaign's target audience.
About atmAd

atmAd is the market leading advertising solution which enables ATM network owners, such as retail banks to run internal and third party advertising campaigns across their ATM estates.

atmAd runs third party advertising campaigns across 6,000 ATMs, delivering targeted one-to-one brand communication across 37.5 million transactions every month, that's 1.2m per day, 50,000 an hour, 833 per minute and 14 one-to-ones every second. atmAd is seen on cash machines in a variety of locations including high streets, supermarkets, universities and commuter routes and can be targeted regionally, demographically, by proximity and by time of day.

atmAd is the only media proposition which can deliver brand campaigns seamlessly across an aggregated network of bank ATMs including those of Nationwide Building Society, Alliance & Leicester plc and The Royal Bank of Scotland plc, whose ATM portfolio includes Tesco Personal Finance.

atmAd runs ad campaigns for a wide variety of advertisers including British Airways, BMIbaby, Orange, Nivea, New Look, Nestle, Hewlett Packard and the Central Office of Information.