Adrian J Cotterill, Editor-in-Chief
#GlobalShop kicked off in Vegas yesterday (and continues until Wednesday). To be fair, it's probably like NRF and one of those events we should have covered … Vegas in April 🙂 though NRF in NYC in Jan 🙁 anyway I digress …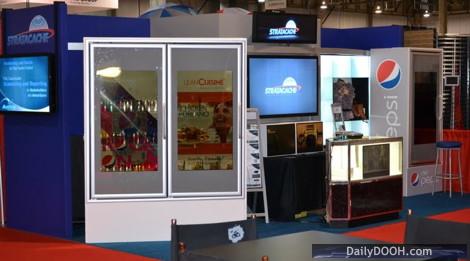 STRATACACHE's stand (Booth 1350) was its usual, well its uniquely STRATACACHE mish mash of things but great to see them exhibit. In the above picture you can see their PrimaSeeTM Dual Cooler/Freezer unit. some Christie Digital MicroTiles and PrimaSeeTM Architectural Glass in Multiple Fixtures.
Two execs (from other companies, not from STRATACACHE) who attended told us (rather sheepishly) "very heavy traffic first day. Tons of brands and large retailers".
"This is what DSE should be but aren't. By far the best U.S. show of the year".
Interesting and if that's true then disappointed we missed it.