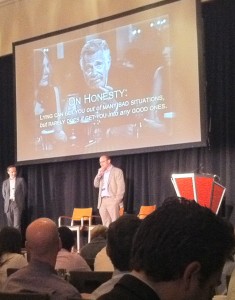 Dos Equis' ad campaign superstar, The Most Interesting Man In the World made an appearance in string of video clips included in a session at the ANA's 2011 Brand Conference presented by The New York Times.
The theme of this year's conference was Building Brands In the Age of Transparency and Relevancy. This one particular presentation, led by Colin Westcott-Pitt, Vice President of Marketing, Heineken USA and Jeff Brooks Co-Chief Executive Officer, Euro RSCG New York, that featured video of the Most Interesting Man In the World is still a fixture in my memory.
In the string of hit clips the Most Interesting Man shares his thoughts on various topics from Rollerblading, to Being Great, Cougars and one of my personal favorites, his take on Honesty.
One innovative feature of note is that this engaging forum included an option that allowed viewers to text in questions for Q&A sessions and polls in between sessions. The ANA is best known for helping the marketing community stay abreast of cutting edge trends and best practices.