Gail Chiasson, North American Editor
Adcentricity, a leading location-based digital ad network and planning platform based in New York and Toronto, today announced Consumer Sync – a consumer targeting solution for digital out-of-home media that incorporates data on consumer behaviors, psychographics and purchase intent for a variety of brands, products and services.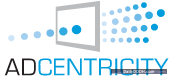 With Consumer Sync, advertisers can target campaigns to consumers most likely to purchase the advertised product or service.
Adcentricity's Consumer Sync includes over 10,000 consumer profile variables that, when aligned with a brand's campaign objectives, can deliver a customized DOOH targeting solution. Consumer Sync covers 20 major categories, including: Alcohol & Tobacco, Apparel & Jewelry, Automotive Products, Automotive Services, Electronics & Computers, Finance & Insurance, Food & Beverages, Gas Credit Cards & Chains, Grocery Chains & Coupons, Hardware & Appliances, Health & OTC Drugs, Home Furnishings, Home Improvements, Media, Restaurants, Retailers & Shopping, Sports & Leisure, Telecommunications and Travel.
Through Consumer Sync, marketers can target their solutions to consumers based on their lifestyles, marketplace preferences, media habits and psychographic values. The consumer profile variables are powered by Nielsen PRIZM segmentation system for the US market and by Environics Analytics PrizmC2 for Canadian markets.
The wealth of consumer data and insightful customer segmentation profiles contained in Consumer Sync give marketers a deeper understanding of which consumers have the highest propensity to purchase a product.
For agencies and brands, Adcentricity's proprietary targeting platform allows them to reach consumers most likely to buy – a capability previously unavailable in DOOH. Unlike other solutions in the marketplace, this approach to targeting optimizes ROI potential for advertisers and has demonstrated a 40% increase in media efficiency, offering higher value for the dollar when planning and buying the medium. (This 40% figure is the average from several companies used during beta testing of Consumer Sync. They included companies in the automotive, financial, insurance and quick service restaurant sectors. Ed.)
"Consumer Sync introduces an entirely new stratosphere of targeting capabilities for agencies to utilize and align with their client's campaign objectives and business goals," says Jeff Atley, co-founder and CMO of Adcentricity. "Not only does it represent an entirely new level of planning rationale for agencies seeking to manage and evaluate DOOH, but allows them to effectively buy more relevant and efficient media."
Atley told us that from basic concept, through development and testing to the final product took "a little under a year," and the data was pulled from 500 million data points to give this DOOH solution. It would take agencies an enormous amount of time to apply such complex data on their own for a strategic media plan targeting specific consumers and their needs to meet client objectives, and this allows follow through all the way to reporting, he says.
"This expands our end-to-end solution," Atley says. "Further, we'll have another part of the solution – on the execution side – ready to announce in June, and a third part of the solution, which should close the loop, ready to announce around the end of summer."
"We're delighted to provide a great new targeting option for the many users of PRIZM in Canada," says Jan Kestle, president of Environics Analytics. "With Consumer Sync, marketers will be able to define the potential audience for different kinds of messages, products and services using DOOH screens. And they will be able to execute DOOH-based marketing using PRIZMC2 custom segments and target groups -providing a consistent view of their customers across multiple media. This is an exciting new opportunity for target marketing campaigns."
Atley says that the Canadian market segments a little differently than that of the U.S., both in bahaviours and in psychographics.
Adcentricity management says that the availability of Consumer Sync addresses a previously unmet need in the marketplace by allowing brand marketers to use data to advance consumer targeting and segmentation, a process that generally requires a considerable investment of resources. In the past, marketers typically used general consumer demographic profiles and market assignments to assemble DOOH media programs. With these new integrated data sets included in Consumer Sync, detailed consumer profiles can assist agencies in developing targeting strategies and offering new media opportunities to their clients.
An example could be a leading telecommunications company that wants to engage consumers who are in the market to purchase a new smart phone and service package. With Consumer Sync, they can deliver the best media solution that meets these criteria at a specific addressable location and define a plan based not only on consumers seeking the product, but also on those who may be considering a competitor's product. The methodologies developed ultimately assign a Market Potential Index to each consumer environment across more than 10,000 consumer variables.
Recently, an unidentified major US auto manufacturer leveraged the Consumer Sync solution during the beta-testing stage for targeting and evaluating DOOH as a component of its media strategy. As part of the strategy, seven makes and models were identified and cross-sectioned against 25 competitive makes and models. The resulting plan delivered to the client was a comprehensive national targeting solution designed to intercept consumers most likely to purchase the competitive automotive brands. Essentially, Consumer Sync determined which consumers were in the market to buy a competitive make and model versus those in the market for the auto manufacturer's model. Going one step further, the auto manufacturer incorporated tier-two dealer locations and applied recency (ie. proximity plus relevance to purchase decisions) and trade area segmentation in order to integrate localized dealer promotions.
Adcentricity applies consumer segmentation data via Nielsen PRIZM for the US market and Environics PRIZMC2 for the Canadian market. These consumer segmentation systems are linked to an array of third party data providers.
For marketing and agency professionals interested in gaining a deeper understanding of Consumer Sync, Adcentricity will be co-hosting interactive webinars in the coming weeks. The ADCENTRICITY Consumer Sync webinar using Nielsen PRIZM is set for May 25, 2011 and the ADCENTRICITY Consumer Sync webinar using Environics PrizmC2 is set for May 31, 2011. Agencies and advertisers wishing to register can visit www.adcentricity.com/cswebinar