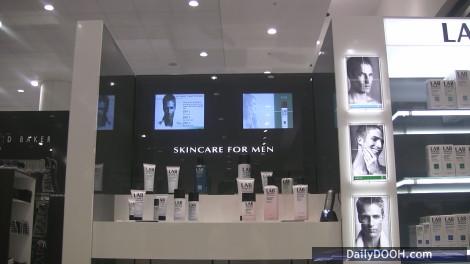 No doubt about it but 2008 has certainly been the year of 'interactivity in retail' – whether it be huge window displays (facing out onto the street) in order to attract folks into a store (that change as you walk past or gesture to them), massive floor projections that react as you walk over them or of course simple touchscreens on their own or built into 'Pods' in Malls or delivered as 'branded fixtures' elsewhere.
At shows recently we have started to see a number of technical solutions that offer interactivity at an object level, which in a store means that it's possible to program screen interactivity in conjunction with merchandising itself.
Late last month at Viscom Paris we saw the tactilmedia solution which allowed a fair bit of interactivity with objects (and they didn't use RFID). In order to demonstrate their solution at the show they used a very simple (read cheap, read compact flash based) interrupt driven signage player and whilst there was some interactivity with the screens that were plugged in there was very little intelligence in the (content) loop.
Anyway, several publications picked up on this Estee Lauder story and focused on the RFID aspect of it – it's a great example of the sort of integration that is possible now at the point of purchase between product (suitably RFID tagged in this case), screens and of course a flexible digital signage software solution.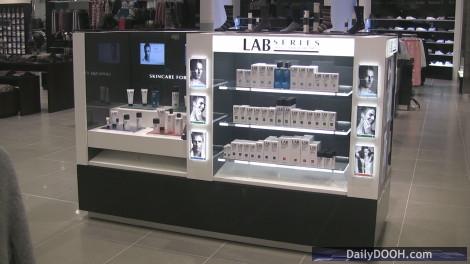 When a potential customer picks up a product, video specific to that product is played out on the screens along with other associated recommendations. There's also a special tag presented by a Lab Series Consultant that turns the screens into a skin scanner enabling a customer's skin type to be analysed and therefore suitable products recommended.
Add into that mix, real time statistics of every customer interaction, EPOS links and updates by 3G / Cellular and you have the makings of one hell of a solution.
The signagelive development team have done a great job of allowing integration to their software and that has helped make this the best piece of point of purchasing interaction that we have seen (actually) in customers hands – this isn't a demo at a trade show, this is real, deployed and working, Ed
Lime IT, a signagelive Strategic Partner rolled out the solution to Estee Lauder Aramis and Designer Fragrances for their Lab Series Skin Care For Men range of products for men.
We do hope that they will be displaying this on their stands at ISE, Amsterdam and Screen Media Expo Europe in London in 2009 so that more people can see how good it really is.