YouGov an international market research agency, has carried out a new research on tablet computers called 'TabletTrack' which revealed that approximately one in twelve Tablet owners (8%) purchased a tablet instead of, or to replace a desktop computer, laptop or other computer, with 11% of Samsung Galaxy Tab and 7% of iPad owners doing so.
Though over three quarters of tablet owners (76%) purchased a tablet in addition to a computer, YouGov believes the proportion of consumers choosing to purchase tablets substituting for laptops, desktop computers and netbooks is expected. The launch of newer, cheaper tablets throughout 2011 will further boost this increase.
Russell Feldman, Associate Director for Technology and Telecoms Consulting at YouGov commented on the findings: "At the consumer electronics show in Las Vegas, earlier this year, over 80 tablets were announced for launch later in 2011. YouGov expects most of these tablets to fail to achieve widespread distribution. However, our analysis clearly demonstrates that if the pricing is right and the device is marketed at the correct audience, then there is significant latent demand."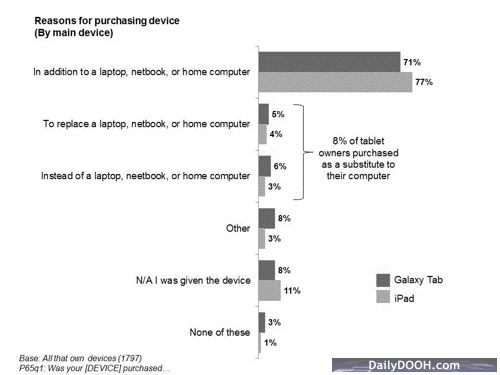 More than one in eight UK adults (13%) are seriously considering buying a tablet, with over two thirds of these (67%) already knowing which they will get, indicating that these prospects are serious in their intentions.
Of those looking to purchase tablets in future, 16% want one as a substitute to a laptop and 9% as a substitute to a netbook.
YouGov believes that £250 is the price point where the tablet market truly takes off and becomes more than a niche product.
Using price modelling analysis amongst 2000 nationally representative adults who do not own a tablet, YouGov found that the optimal price point for tablets is £250 amongst hot prospects.  Lukewarm prospects and current rejectors of tablets will require prices in the £150 to £200 price range before they become more interested in purchase.
The methodology used for this analysis was exactly the same that two years ago predicted e-reader sales taking off at the £100 price point.  The Amazon Kindle currently retails at a base price of £111.
YouGov's TabletTrack study surveys tablet usage, attitudes and satisfaction, quarterly. The next wave of the tracker begins in May with a report due in June 2011.