Gail Chiasson, North American Editor
OBN is continuing to expand its Canada-wide video board network – now spanning from Victoria to Halifax – with new boards in Vancouver and Edmonton.
OBN is the only national video board company, with video boards located in key sites in 14 major cities across Canada.
In Vancouver, the newest location is at Canada Place in downtown Vancouver, situated on the south face of Canada Place, the same building which houses the Vancouver Convention and Exhibition Centre and the CN IMAX Theatre. The video board measures 24' x 14' and is located one block away from one of Vancouver's major LRT (light rail transit) terminals. With direct sightlines from downtown Vancouver, OBN now delivers a weekly audience of over 3 Million in that market, site of the 2010 Winter Olympic Games.
"This beautiful commercial facility complements our other local sites and further enhances an advertiser's ability to reach downtown Vancouver," says Peter Irwin, president & CEO of OBN.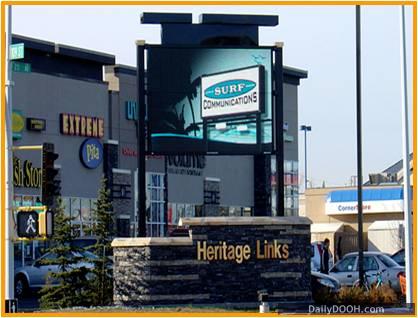 The new Edmonton location is at Heritage Links, located on 23rd Avenue, one of the main roads leading towards the prestigious subdivisions of Terwillegar, Riverbend, Twin Brooks, Rutherford, Heritage and Windermere. The Heritage Links LED video board is the only large format advertising medium south of the Whitemud Freeway and west of Calgary Trail, reaching a weekly audience of 400,000.