Adrian J Cotterill, Editor-in-Chief
En Route Media are a company operating in the Digital Out Of Home space in India. As a business they started out around 2 years with the aim, like many others of course, to make the sector more accountable and interactive.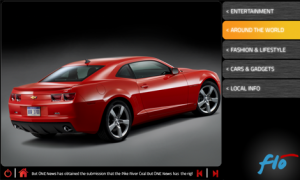 Their first product has been 2 years in the making and is called 'Flo'.
Flo is an interactive and digital in-taxi entertainment system consisting of a touch-screen, a wireless network connection and a content management back-end.
Not surprisingly given that India is their home, all the different aspects from the hardware design to the software development, have been carried out in-house, instead of using off-the-shelf solutions.
They claim to have a very powerful solution that is specifically designed with the intricacies of in-vehicle digital signage management in mind.
En Route Media co-founder, Varun Jain told us "We believe that the Digital Signage industry in India is still in its nascency, and many of the available solutions are very flawed".
He added "Unlike some of the thought leaders such as PumpTop in the US, very few players here have concentrated on areas such as quality content, user experience or accountability towards the advertisers and these are some of the areas that we've focused on while developing this system"
En Route Media has already tied up with some of the biggest media conglomerates in India for India-specific content and with several niche websites for more specialised content.
Varun Jain told us "Through all these efforts, we've tried to overcome some of the flaws in the systems of some international in-taxi entertainment players that we've benchmarked"