Adrian J Cotterill, Editor-in-Chief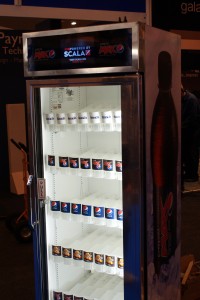 We are showcasing an Innovative Beverage Chiller on our Blogger Lounge at #ScreenMedaExpo this week.
The chiller has kindly been provided by IVUE and is equipped with an integrated 9.7" LCD HD display.
The installation is powered by Scala 5 running on a SureVue digital signage player from MediaVue Systems.
These digital signage-enabled chillers will soon be appearing throughout the UK we believe although we do not know anything more about this rollout just yet.
Besides keeping drinks cool, the chillers will also act as a Wi-Fi hotspot in appropriate linger areas and feature Bluetooth connectivity.