Gail Chiasson, North American Editor
That's one of the things I envisioned when I looked at Pixel Inspiration's neat little digital shelf screens: the easiest way to change all or any of the prices automatically without the need of a staffer doing it by hand.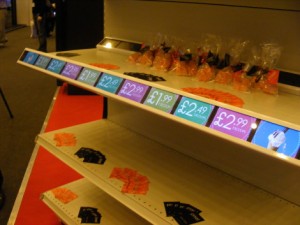 Actually developed by ImpulsTV, Frankfurt am Main, for Display Solution AG in Gilching, Germany, ShelfVision is one of the neatest things I noticed at Screen Media Expo last week in London. Pixel Inspiration in Knutsford, Cheshire East, has picked up the rights to the product for the UK. ImpulsTV has the rights for Germany, and the company is looking for exclusive franchisees for other countries.
Changing prices is only one of many possibilities for this shelf unit. You can run individual brand ads, photos and even videos on these tiny units. I not only envisioned them in convenience stores and supermarkets, but also for cosmetic displays, or even showing mini film trailers in film rental locations. And with multi-shelf units, you can run videos left-to-right and top to bottom. Basically, I can envision them anywhere where there's a high return on investment. Content could be provided by brand advertisers or their agencies.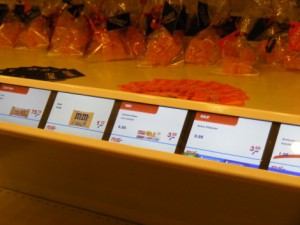 Each high resolution LCD shelf unit is made up of 11 units covering 1 metre or 1.25 meters (standard shelf sizes), for a total of 5280 pixels x 272 pixels in height. (Each 4.3" unit = 480 pixels x 272). Up to six of these shelving units can be controlled by one PC.
In fact. retailers can employ them to run almost any type of information. They don't come cheap- approximately Eur1000 per shelf unit – hence the need for high turn on investment locations but they're energy-efficient we are told.