One of the most creative and innovative uses of DOOH that I have seen in a while is McDonald's Pick & Play executed by DDB in Stockholm.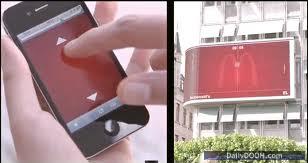 Using spectacular digital signage, consumers were encouraged to play Pong to win a coupon for a free item of their choice at a local McDonalds Restaurant.
No download required and armed with only just their mobile devices, players were challenged to control the french fry with their phone to keep the ball in play for more than 30 seconds to earn a prize.
Maybe one day in the sometime not so near future, advertisers and media buyers will get the picture and realize that Interactive Out Of Home activities like this are globally scalable on digital signage networks.
Then hopefully, one day, maybe we can all enjoy a little nostalgia playing arcade like games such as Frogger, Asteriods, Pac-Man and even more complex games like Bus Stop Derby while we are passing the time in some line somewhere in the world.