Adrian J Cotterill, Editor-in-Chief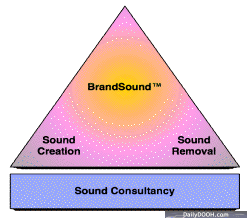 I asked Julian Treasure over at The Sound Agency earlier this week, if he could create me a single page foil that summarised his thoughts, his work and his company's offering of Sound and Sound Consultancy (a tall order considering the scope of the subject matter).
I wanted a single page which I could then use in my own speeches and presentations and (of course) credit him with the detail. He came back with 3 foils but I do pride myself on the mastery of the simple Powerpoint and indeed got it down to a single foil. I will be using this PPT later today and in 2 weeks time again in India at the DS Asia event.
Anyway, thought I would share the salient points with you.
Sound affects people powerfully, altering their behaviour
Primary effects are physiological, psychological, cognitive, behavioural
Research has shown that sound can increase retail sales by over 30%
Most retail sound is arbitrary, incongruous and hostile
Main effect is to reduce dwell time and therefore sales
How to design an effective soundscape
Create audio brand guidelines
Remove inappropriate noise
Optimise acoustics and install a decent sound system
Design an effective background sound using psychoacoustics and ABGs
Add foreground sound that is targeted, appropriate, valuable
Consider the whole soundscape and listen: shut your eyes!
Test and test again
Julian's Sound Agency offer, and trust me, it is so worthwhile you talking to them when doing a screen network or any retail work…
BrandSound™
The sound of your brand defined and optimised
A four-stage process

SoundCheck – full competitive audit
SoundThinking – BrandSound defined in full audio brand guidelines
SoundPractice – BrandSound expressed
SoundHealth – optimisation and development
Sound creation and removal
Custom sound design and production
Soundscape design for retail and other commercial spaces
Music composition and styling
Audio programmes, sonic logos
Leading edge delivery technologies such as reactive sound, generative sound and hypersonic loudspeakers
Acoustic treatments for spaces
Sound consultancy
Expert advice on applied sound including:

Strategies, training, conferences, blue sky days, white papers, sound audits, teambuilding, event sound, voice coaching…