Adrian J Cotterill, Editor-in-Chief
Like many who visited #InfoComm11 last week every member of the DailyDOOH team made it a point to go see the omniSHAPES on display publicly for the first time from Reutlingen, Germany based eyevis.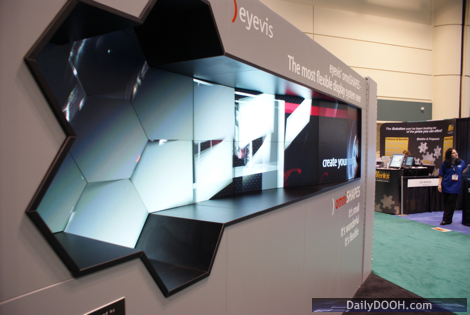 Our North American editor Gail Chiasson also had the opportunity to interview both Eric Hénique, director of marketing and international sales, and Hans-Günther Nusseck, who sports the long title of 'development & tech, project management, display hardware, VR & simulation' who told Gail that omniSHAPES have been in development for two years.
What visitors would have seen is a product that looks remarkably like Christie Digital's MicroTiles (both inside and out) and despite the "two years in development" statement emphasised by Herr Nusseck we'd suspect that MicroTiles had a strong influence on omniSHAPES – they are both effectively rear projection display cubes (omniSHAPES has its own internal signal processing unit whereas MicroTiles uses an external ECU that can drive a number of tiles) and most maintenance can be done on both from either front or back†.
Unlike MicroTiles that come in one size and with one 'front panel' the omniSHAPES have three different screens that can be attached to a standard unit; rectangular, hexagonal, and transitional, giving slightly more flexibility for display shapes and even more complexity when trying to figure out how to drive it!
Each omniSHAPE measures 480mm x 360mm and weighs 12 kilos with a native resolution of 1280 x 800 and an effective resolution of 1024 x 768. Each omniSHAPE unit itself is also NOT square and so can either be placed next to its neighbour straight on to create a flat surface showing at the front or can be placed at an angle to create a curve. Whilst it wasn't demonstrated at the show if you had a dozen omniShapes and butted them tightly together you would end up with a nice circular display (i.e. you can both make concave and convex shapes out of omniSHAPES).
eyevis told Gail that they would have their first deployment in Germany in September and whilst they wouldn't divulge the name of the customer it's likely to be Porsche, Audi or Mercedes – companies that they already deal with extensively close to where they are based in Germany.
eyevis also claimed that mass production would begin in the December 2011 or January 2012 period though judging by where we think they are in the development process we suspect it more likely that they wouldn't really be ready for a further six months. The omniSHAPES on display did not stack securely, merely locking onto each other with a clasp and we were shown a CAD drawing of a new stronger design that used long bolts similar to MicroTiles.
There was also no (software) intelligence in the way omniSHAPE's were tiled, i.e. each omniSHAPE did not automatically know if it has a neighbour or not. There was a number switch on the back which needed to be set individually for each unit.
Overall we liked the product and it's good to see a new display company join the likes of Christie and Prysm with a small bezel tiled offering.
eyevis was founded in 1995 and has a background in DLP rear projection cubes for video walls in control room applications and has 120 employees. The company expects that omniSHAPES will comprise between 10% and 20% of its business within the next two years.
† You cannot take a light engine out of a MicroTile from the back.