Amigo Digital has just delivered the first "Live Advert" on City Gateway Media's Manchester skyscraper screen for Century Radio. The project is very much a pilot to demonstrate the Live Data Feed capabilities of the huge skyscraper tower located in Manchester's Piccadilly area.
Amigo's technical team and CGM worked closely together to test the technology that enabled them to achieve this. Working with the Century Radio brand (part of the GMG group) we developed a series of ads containing live data feeds that also updated automatically over specific day parts.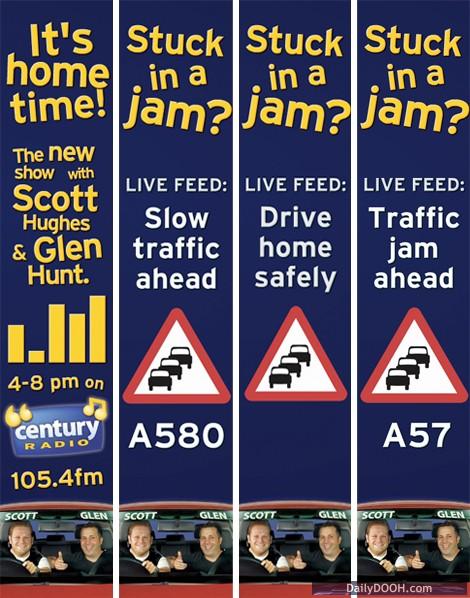 This first ad with Century Radio is a 15 second spot promoting the Century Radio afternoon radio show during Drive Time. Latest traffic news feeds change every time the ad is shown and there is 3 forms of live data delivered:
traffic comment "delays ahead", "slow traffic"
graphic indicating status of the traffic
road number and name details
What is important from a creative aspect is that instead of just plain data being delivered in the framework of a creative ad, all the data above is delivered in the graphic style of the ad, so is creatively seamless.
The pilot has proved the concept of creating Digital Out Of Home Advertising that is instantly updatable via live data feeds. With an online connection, live data can be updated immediately and placed within the schedule loop automatically.
"Live Ads" are digital adverts that use integrated real time data to enhance advertising, making it more time, location and audience relevant and engaging – thus (we hope) making it much more effective.
Live data can be in traditional form of prices, figures, times that are continuously updated – obvious advertisers might be ebay, lastminute.com or EasyJet. However, Amigo and CGM are also interested in creative ways of updating advertising using live CONTENT – imagery, photos, graphics, scores, weather – that are time/audience/response specific.
We are also developing advertising that involves 'live' interactivity with an audience which also becomes more immediate and responsive – examples include UGC/VC2 content such as photography, video, graphics combined with advertiser message specific content related to time and the relevant locality/region.