Adrian J Cotterill, Editor-in-Chief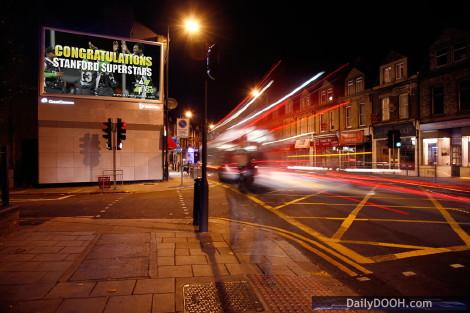 Personally we gave up watching the 20/20 Cricket on Saturday evening when the England team failed to make 3 figures and were bowled out for a measly 99 runs. Anyway, we would have been the first to congratulate the Stanford Superstars who deservedly won the match (very, very easily as it happens) but we were beaten to it by Clear Channel who uploaded the content just after the results came in at 00.30am GMT on their digital roadside network.
A more generic campaign promoting 20/20 cricket actually ran across Clear Channel's 6-sheets, billboards and digital roadside LED network from 20th October to 3rd November and we noticed also that many of the traditional 6-sheets carried Clear Channel's Interact short-code 62266 inviting passers-by to text in and enter a competition to win a trip to Antigua (subsequently we have learnt that a 1,000 x 6-Sheets had these).
Nice campaign and again shows what digital can do – especially with sporting / result oriented events.