Adrian J Cotterill, Editor-in-Chief
As a past judge it's safe we think, for us to say that the most coveted Digital Signage Award is surely this one, put together by Thomas Dockter and the folks at Viscom.
In this competition, prizes are awarded to particularly efficient, creatively implemented, innovative and successful digital signage projects.
Better still, the actual display of the nominated projects makes up the core of the Digital Signage World at that year's Viscom event (this year viscom düsseldorf), since they demonstrate the versatility of the medium, and its various uses, techniques and content.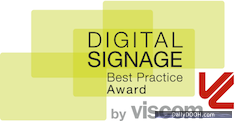 The Digital Signage Best Practice Award, officially staged by viscom in cooperation with Dockter Marketing in Cologne, is presented for the fifth time this year. Categories include; Retail Signage, Information Signage, Guiding Signage, Content for Digital Signage as well as Interactive Signage.
The Digital Signage Best Practice Awards are now regarded by many (including us) as the most valuable awards for digital signage projects in Europe. Besides multinational companies such as Deutsche Lufthansa AG, Deutsche Telekom AG, Coca Cola Great Britain and Audi AG, increasing numbers of less well-known newcomers have also won an award on the basis of their promising ideas.
Projects from all application areas of digital signage are eligible to enter the competition.
A truly impartial, experienced, international jury incorporates a range of viewpoints, depending on the individual jury members and their own particular specialisations.
The deadline for submitting entries to the awards is 1st August 2011. Entries can only be submitted online via the awards website here.