Adrian J Cotterill, Editor-in-Chief
We've always said that digital posters from the big OOH folks (already connected to the Interweb of course) could benefit consumers and the brands from having a free Wi-Fi router attached also. There's no sign of that practice happening in any meaningful way at the moment but the habit of sticking electrical gadgets to static posters continues to grow.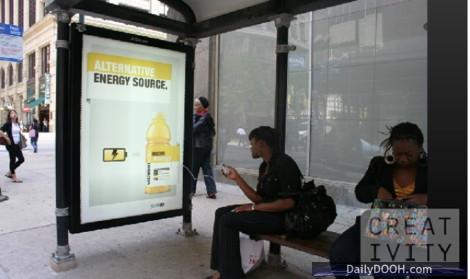 Back in May in London we had Posterscope (partnering with Nokia, O2, Proxama and JCDecaux) launching the UK's first NFC-enabled poster campaign (each site had a pre-programmed NFC chip affixed to the rear of the poster) and now we see that in New York, Los Angeles, Chicago and Boston Vitaminwater is highlighting its 'energy-boosting' properties with bus shelters equipped with a 5-volt battery-powered USB port.
Using the port, consumers can charge their phones, iPods and gaming devices.
The effort is the first from Crispin Porter + Bogusky, which won the account in May and is part of Vitaminwater's "You're Up" positioning.
Whilst the Coca Cola USA OOH business is split between Posterscope and Starcom we understand that this initiative was pushed forward by Coke's in-house media department.