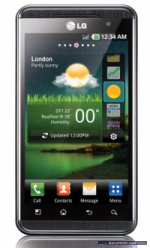 How better to promote your new 3D smart phone than by using 3D screens? Well, LG is doing just that for the launch of its new Optimus 3D, the first smartphone to launch with a "glasses-free" 3D display.
A large campaign has been launched in the UK and Europe where LG, Car Phone Warehouse,  3D production company Inition, digital2go and Alioscopy worked together to achieved the desired WOW factor.
The in-store screens, using Alioscopy glasses-free 3D screens, showcase the 3D functionality of the LG Optimus 3D. The phone is ground breaking. It comes with what LG calls the phone's "tri-dual" technology – a dual-core processor, dual cameras and dual-channel memory, which enables users to take still photos and record videos in full 3D, then play them back in 3D on the phone's  4.3-inch display.
The video shows the LG Optimus 3D used to record stunts performed by freerunners; the stunts are then shared online on a dedicated 3D channel directly from the phone and via an HDMI connection to one of LG's 3D TV's.
Inition is rolling out the campaign in continental Europe, while digital2go is taking care of the UK. The campaign went live in 20 Carphone Warehouse hero stores and 4 Best Buy stores in the UK last week, plus a 2D version is showing at an additional 330 stores. A further two hundred 24" glasses-free display screens will be installed in mobile phone retail outlets in selected European countries this month. (The network is currently being rolled out in Poland – Germany is next, followed by Spain, France, Portugal, Switzerland, Austria, and Benelux.)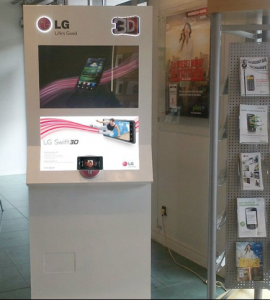 Craig MacLennan, Channel Marketing Manager at LG Electronics Europe commented: "This innovative campaign is the perfect way to demonstrate the glasses free experience of the LG Optimus 3D. It reaches consumers at the critical point of purchase and provides engaging, informative, stunning 3D content."
Alioscopy's Giles Marcellier explains: "The live action autostereoscopic footage was shot from 2 separate camera perspectives with 6 extra virtual perspectives created during post production, creating 8 view points, i.e. 2+6=8, the number of views on our displays. This is actually a very interesting case of stereo to autostereo conversion, as it prefigures what will undeniably become a viable approach to creating content for naked-eye 3D displays, until affordable 8-camera rigs become available ."