Adrian J Cotterill, Editor-in-Chief
Are these the awards we are looking for or are they just another pumped up, over hyped, farcical attempt at 'a bit of fun' as the Earl of Knobworth would say or a nod and some pretence of impartiality and then full on promotion for attached / relevant show?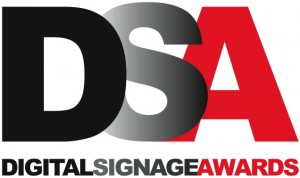 I think it is safe to say that we already have too many shows in our industry and it goes without saying that every show THINKS it needs to have its own awards ceremony – add into that all the other award ceremonies from magazines and industry associations and you end up with, quite simply, far too many (of both).
As with our Industry Events Calendar we have tried to keep track of the relevant industry awards, listing them here. We currently have 13 detailed (there are probably a few missing but we think we have all the important ones) and that list doesn't (yet) include this new award that has come to our attention.
So let's start off by saying that we were very 'skeptical' to say the least when this award and its proposed ceremony came to our attention.
The Digital Signage Awards are described by the organisers as "impartial, independent and objective and their aim is to seek out examples of the world's most excellent digital screen media projects, creativity, content and technology and to reward them publicly in print, online and at an annual event".
And the organisers? The company behind these awards is the 'The Live Event Organisation Ltd' (LEO) a business that describes itself as 'Expert in business celebration" formed earlier this year. LEO also puts together the Internet Business Awards, UK and the Online Retail Awards
ex-Haymarket Media Group, Group Director of Events Matthew Davies is Chairman and creative director at Live Event Organisation Limited. Also involved in the business we believe are; Charles Beddow, Michael Breen, Terry Vermigle, Jeremy Lee and Tom McLaughlin, among others.
The awards are not currently associated with any show, Matthew Davies told us "the first international Digital Signage Awards will take place in Europe at the end of March 2012"
And as there is no harm in looking so far ahead, he added "In 2013, the ceremony may move to Asia, then to North America in 2014, before returning to Europe in 2015"
The 2012 event is likely to take place in Madrid, Berlin or London.
So as yet we are undecided whether this is good or bad. There is a certain arrogance in thinking that the unknown folks described here can step in and create a global award for the digital signage and digital out of home industry.
Awards (and their ceremonies) for LEO are a money making exercise as it is their business. There is absolutely no harm in that and indeed as we know it does somewhat sharpen the mind.
In LEO's favour, despite there already being far too many awards at present we think that …
Exhibitor organised award ceremonies are often a bad thing (focussing as they do around their event and by default meaning the industry has too many of them – too many exhibitions equals too many awards). It also prevents global buy-in as folks show their allegiance to one show or another
We've already had far too many morally corrupt and farcical award ceremonies to last us a life time, see 'The Love Content Awards Were A Farce' as just one example
For awards to be successful they need to be 'believable' and that comes down to trust and a good set of judges. AV Magazine's continual love-in with Spinetix says more about their awards and what they (the magazine) know of our industry than any editorial ever will. It also tarnishes all the other good people listed as finalists (and there's the suspicion of course that every finalist will stump up GBP 2K for a table at the posh awards ceremony)
As far as we can ascertain LEO have had no discussions with any of the recognised industry bodies nor any of the other shows or award organisers so far.
Perhaps if they do then is a chance for someone to step in and do the whole award thing properly and professionally – one thing for sure is that without the buy in from the industry associations this will not succeed.