Adrian J Cotterill, Editor-in-Chief
Brazil based Megamidia Group announced today that it has begun deployment of a new corporate TV network linking every McDonald's in Brazil as part of a long term communications initiative championed by Arcos Dourados, the largest operator of McDonald's restaurants in Latin America.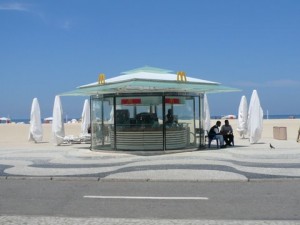 Celso Hey, Megamidia's President and CEO told us "We've been collaborating with McDonalds for many years delivering customized, in-store music programming that enhances their in-restaurant customer experience. Our new Corporate TV initiative is a natural evolution of our positive working relationship. McDonalds' Corporate TV will deliver real value and tangible benefits that will positively impact the operational efficiencies of McDonalds in Brazil,"
Megamidia, based in Curitiba, Brazil and with offices in São Paulo offers full service solutions across multiple media platforms including licensed, custom music programming, audio messaging, in-door and outdoor digital signage, POP programs, promotional magazines and e-zines, and on-demand training and educational programming delivered over private corporate networks.
About Arcos Dourados

Arcos Dourados is the largest operator of McDonald's restaurants in Latin America and the world's largest McDonald's franchisee. With more than 80,000 employees, it is recognized as one of the best companies to work for in Latin America and one of the region's leading employers of young, first-time job holders. According to Latin Business Chronicle, Arcos Dourados is the region's 9th largest employer as of 2010.

Arcos Dourados serves an average of over 4 million customers at more than 1,750 company operated restaurants, 1300 dessert centers and 267 McCafé locations in 19 countries and territories (Argentina, Aruba, Brazil, Chile, Colombia, Costa Rica, Curacao, Ecuador, Guadeloupe, French Guiana, Martinique, Mexico, Panama, Peru, Puerto Rico, St. Thomas, St. Croix, Uruguay and Venezuela). The company's sales exceeded US$ 3 billion in 2010. NYSE ARCOS