Gail Chiasson, North American Editor
"Digital signage to me is visual art," says Nathalie Azoulay, president of Eye-In Media, Montreal.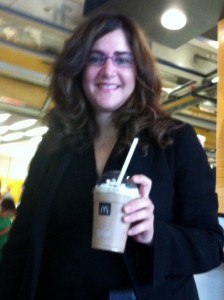 We met Azoulay last Friday where she proudly showed us the designs by Eye-In that had gone into the digital signage and video walls in McDonald's McCafe and dining room at Montreal's Alexis Neon Plaza, crowded with students from the nearby Concordia University, John Molson School of Business, and LaSalle College as well as mothers shopping with their toddlers.
Eye-In was deploying DOOH signage in about 500 McDonald's McCafe locales before an RFP was closed and apparently won by EK3 (unconfirmed). It also continues to deploy digital signage in various McDonald's dining rooms across Canada. Dining rooms were not part of the RFP – Aside from the interview with Azoulay, we're rather intrigued with the RFP supposedly won by EK3 which handles the rival Tim Horton coffee chain. McDonald's is still not noted on EK3's website. Ed
Azoulay founded Eye-In eight years ago after she and her husband decided to return to Montreal to raise their family after working in California for several years. Azoulay had last worked for Oracle in California; her husband, also at Eye-In, last worked for Peppers & Rogers Group. Others in the company have similar backgrounds. Eye-In has 15 full-time staffers, goes up to 30 as needed and, with installers goes up to 50.
The company, which has grown organically since its founding, literally handles everything from A-to-Z. In addition to McDonald's, clients include hospitals in Quebec and Ottawa (including Montreal's Jewish General); arenas (Westmount, Cote-St-Luc) and city halls in the Montreal area; Point Zero retailers. Its WiFi division works with Cambridge Shopping Malls, among others.
"We're looking for our next big challenge," says Azoulay. "Clients and suppliers that we've worked with know that we're very hands-on. It's important that the signage fits the architecture. We control every aspect and personally review every spec, such as the possibility of glare. We've developed our own management software. We do all our own artwork. If the client needs dayparts, we handle it.
"We need to have full vision. We want to be seen as full integrators. We see no need for several layers, involving other companies and delaying projects."
Hearing Azoulay say that she is personally involved with each and every aspect – and I believe it since her phone rang or vibrated every two minutes during our interview – made me question whether she is trying to do too much.
"Not at all," she says. "I'm personally involved at the beginning, because I feel that you have to get to know the client, to like the client. It's important be in the field. But it's important to delegate.
"And Eye-In is not one to snooze. We prefer to try something, do a pilot, and show a client that it works. I'll invest in my customers. It's like a marriage: you have to date. It's the same with clients."
Azoulay says that it's important to have pride in one's work, and that she has nothing but pride in what Eye-In has accomplished to date.
"We get most of our work from referrals because we have a good reputation," she says.
Almost all Eye-In's current clients don't have advertising on their screens, preferring product shots, medical messages, community messages, entertainment or other content, but Eye-In is ready for clients who do.
"We're definitely ready for the next big thing," Azoulay says. "Bring it on."