Adrian J Cotterill, Editor-in-Chief
Backlite Media, an outdoor media specialist in the UAE has appointed Keith Thomson to the role of International Business Development Director in a newly created position.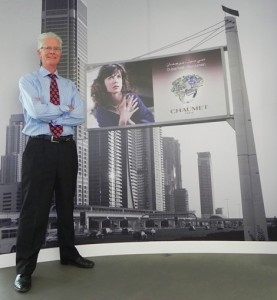 Keith is a seasoned management and marketing communications professional with over 30 years experience working for some of the world's leading advertising and communication groups in the UK, Australasia, Asia and the Middle East.
James Bicknell, BackLite Media's Managing Director told us "For the last eight years, Keith has worked for us in a number of management positions and with his knowledge of BackLite's portfolio of products, the UAE outdoor market and his extensive international experience, is ideally suited to meet the challenge as we move forward with the next phase of the Company's growth".
BackLite Media is a specialist outdoor advertising company based in Dubai, UAE with an extensive portfolio of 'unipole' and 'lamppost' signs that are located along the busiest and most prestigious roads in Dubai. It has enjoyed substantial success since it was established in Dubai in 1996 and is now putting in place measures to continue that growth.