Adrian J Cotterill, Editor-in-Chief
"The Digital Signage Investment Conference, in my opinion, is the major event of the next three to five years where true leaders in the DOOH space will emerge," says Benjamin Mathieu, enVu CEO.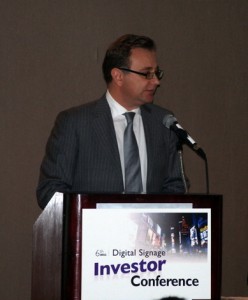 He added "As discussions evolve into media and business model efficiencies, enVu will maintain a key role within the industry by helping agencies maximize their DOOH investments."
Industry-leading media company enVu based in New York City (and a wholly-owned subsidiary of STRATACACHE) issued a press release earlier today reinforcing the fact that the 2011 Digital Signage Investor Conference was the place to be to learn how to attain a profitable future in the digital out-of-home (DOOH) space (the event covered revenue models, exit strategies, financing, fundraising and metrics and of course there was the story about the man rescuing the dog).
The press release mainly focusses on the session 'Creating a Profitable Business via Subscription, Merchandising and Ad-Based Models' which was named a big success by show attendees.
Included on that panel was Benjamin Mathieu, CEO of enVu, who shared his checklist of key factors needed to successfully build a DOOH media company.
Key takeaways from his presentation were: –
Select a partner who understands your business and has aligned interest
Remember that the "4-pillars" (sales, operation and content, administration and asset management) must be the four core competences controlled internally
Use existing technologies in the production stage, thus limiting innovation to the testing stage
Manage return-on-investment (ROI) for each of your assets individually
Remember that research is an ongoing effort and not just necessary in the beginning
Prove your business model first, and then expand the scale of the project