Gail Chiasson, North American Editor
Keyser Retail Solutions, an Evergreen Park, Illinois-based visual merchandising company has partnered with Wireless Ronin Technologies Inc., Minneapolis-based marketing technology provider, to provide marketing strategies and technology solutions to the quick-service restaurant industry.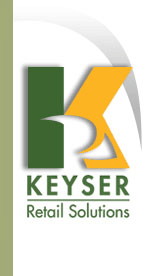 The joint marketing agreement allows the companies to leverage their proprietary processes and technologies to create custom in-store and drive-thru digital signage solutions for QSR marketers, from strategy through execution.
Keyser Retail Solutions will use the company's Zone Strategy system that optimizes planning and placement of visual messaging in restaurant and retail environments. Wireless Ronin will provide technology systems that feature its cloud-based RoninCast marketing technology software platform that gives marketers the ability to deliver and manage marketing and advertising campaigns remotely across targeted locations.
Judy Haselberger, president of Keyser Retail Solutions, says, "Working in partnership with creative marketing teams, we'll design, create, and deploy systems that enhance the customer experience through the successful delivery of next-generation rich merchandising messaging."
Keyser Retail Solutions is a wholly-owned subsidiary of Keyser Industries Inc.. Through its sister business, Florida Plastics International, the company has served as exclusive provider of indoor and outdoor menu boards and related visual merchandising products to McDonald's in the U.S. and is responsible for developing many of today's industry standards and practices.
Wireless Ronin has developed digital signage solutions for a broad range of QSR marketers, including KFC, Johnny Rockets, and Aramark.