Adrian J Cotterill, Editor-in-Chief
We noticed earlier this week that Bootcamp Lights had launched a new beta platform and so we reached out to co-founder Kyle Benham to learn more.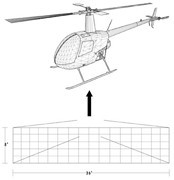 Kyle told us "My goal has always been to make outdoor media simple, accessible and affordable to all"
He continued "With simplicity in mind, our new interface gives everyone the opportunity to purchase 100 character messages on our digital billboard for just $25".
We understand that their first flight plan will be targeting Baltimore rush hour traffic Wednesday evening (5:30pm-6:30pm ET) and the The Baltimore Sun will be sending photographers to capture footage (which hopefully we can share with you).
Bootcamp Lights also plans to debut some new video features very soon we understand.
You can see their '100 Characters For $25' offer here.