MAGNAGLOBAL, a division of IPG Mediabrands, released updated Global Advertising Forecasts, showing media owners' revenue growth for 2011 and 2012 to be slower than previously projected, but still resilient.
Some of the key findings of the report included:
2011 global growth is revised down to +4.7% (downgraded by -0.5%), totaling $427 billion.
2012 global growth is revised to +5.0% (downgraded by -1.5%), totaling $449 billion.
Quadrennial events, combined with the scale and dynamism of the BRIC countries will help sustain global growth despite worsening economic outlook. They contribute to 45% of the global growth in 2011.
Internet will become the second biggest media category in 2011, reaching a 20% global market share in 2012.
China will become the second largest advertising market in 2012, outgrowing Japan.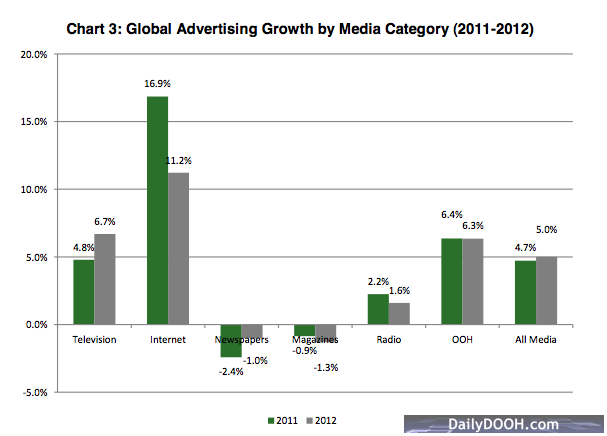 This past year, media suppliers saw advertising revenues grow by +4.7% to $427 billion. Down just -0.5% from +5.2% projected in June 2011.
MagnaGlobal monitors the revenue of media suppliers in every major market, 63 in all, representing 95% of the world's economy. It includes media suppliers in television (pay and free), Internet (search, display, video, mobile), newspapers, magazines, radio, cinema and out-of-home (traditional and digital). It excludes direct marketing categories such as direct mail or traditional "yellow page" directories. For a more in-depth analysis visit: www.magnaglobal.com
MagnaGlobal forecasts are the industry's leading source for measuring and forecasting the growth of advertising revenues for media companies. Their next global forecast update will be published in June 2012. Until then follow @MAGNAGLOBAL on Twitter.